I'm halfway watching this drama and I gotta admit I really like it! Even though it was filmed SO long ago in 1996 when I was like attending my second year in elementary school I still can't help but love it. Of course clothes and hairstyles (old good 90's) sometimes seem funny but in a way I feel a bit refreshing. I really miss 90's and Long Vacation makes me feel like the old good days are not so far away.
Then why is this stuff so good? It has not only excellent star cast but witty screenwriting and good directors. You just have to love all characters especially energetic Minami. The plot is predictable in a way and some characters a bit annoying. Also "first kiss is a big thing" attitude pisses me off sometimes. Come on, it's not such a big thing! Long Vacation is not boring and it advances forward pretty fast so you won't feel like fast forwarding any scenes. That's just great. Love is pictured very beautifully. It's not just some sudden thing but it evolves pretty slowly without main characters noticing anything but to watcher it's obvious. I really like that love atmosphere. Senna and Minami are becoming similar to each other, they are starting to miss each other, feel jealous, having each other's habits.

Recently I have been hanging with Japanese exchange student and when I mentioned him I'm watching Long Vacation it put a wide smile on his face. Yes, this drama was a big thing, it won bunch of awards and I am almost sure that majority of Japanese ppl know about it. It's like a must. When I gave it a thought I realized it's that kind of drama, it will put a smile on your face and you will start missing some characters. I started watching Long Vacation only because of Kimura Takuya but ended up finding so much more.
-------------------------------
Synopsis (dramawiki): Senna is a college graduate who dreams of becoming a world class pianist. He teaches piano at a local piano school. Minami is an out of work model. On her wedding day, she gets dumped by her fiance and loses all of her savings, which she gave to her fiance. Her fiance turns out to be Senna's former roommate. She rushes to Senna's apartment and finds out that her fiance has skipped town. With no money and no where to go, she moves in with Senna.

Senna likes Ryoko, a college sophomore. He likes her a lot, but just doesn't have the courage to ask her out. Koishikawa is Minami's best friend and is also a model. She provides much of the comedic relief in this show. Shinji is Minami's younger brother who just happens to be better than Senna at piano. He opens a bar/nite club. Rumiko is Shinji's girlfriend. Sasaki is Senna's professor at college and is always encouraging Senna to perform at the next piano competition.

Broadcast period: 1996-Apr-15 to 1996-June-24

Cast
Kimura Takuya as Hidetoshi Senna (24)
Yamaguchi Tomoko as Hayama Minami (31)
Takenouchi Yutaka as Hayama Shinji
Inamori Izumi as Koishikawa Momoko
Matsu Takako as Okusawa Ryoko
Ryo as Himuro Rumiko
Hirosue Ryoko as Takako Saito
Toyohara Kosuke as Sugisaki Tetsuya
Kobayashi Susumu
Morimoto Leo as Sasaki
Tsukayama Masane
Tate Misato
Tadano Atsuko
Ito Yoshinori

Kimura Takuya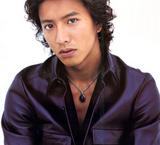 He is a legend. He is hot and and talented, what else do you want? Such a pity he is a bit old already but that's why we have old dramas. You can always teleport back in time even when he becomes old grandpa you will be able to see young and fresh him. I don't like his hairstyle in Long Vacation much but overall he looks really cute.

Young Kimura Takuya:


Old good SMAP days... *sigh*

Yamaguchi Tomoko


I have seen her only in Long Vacation so far but I really like her. Her acting is natural and free, she's like a bird. Doesn't look or act like 31 in the drama AT ALL!!

Takenouchi Yutaka


Anyone else seen Beach Boys? Man, I loved that drama and man is Yutaka cool? He is perfect in the role of Animal Shinji xD I love his nick in the drama lol.