Movie : Tazza : The High Rollers aka The War Of Flower / 타짜
Release Date : September 9, 2006
Country : South Korea
Director : Dong-hun Choi
Starring: Seung-woo Jo, Hye-su Kim, Yun-shik Baek
Runtime : 139 Minutes
Extended Cast:
Dong-hun Choi, Jong-ryol Choi, Yeong-min Ha, Jin-mo Ju, In-gi Jung, Eung-su Kim, Jeong-nan Kim, Kang-woo Kim, Kwang-gyu Kim, Kyeong-ik Kim, Sang-ho Kim, Yun-seok Kim, Tae-won Kwon,Jae-gu Lee,Su-kyeong Lee - Hwa-ran,Jeong-eun Lim,Hae-jin Yu
Synopsis: (from flixter) Plot: A guy with a talent for cards makes his way into the dangerous world of underground gambling in this crime thriller from South Korea. Go-ni (Jo Seung-woo) is a small-town guy with a big appetite for gambling. Convinced he?s on a hot streak one evening during a card game, Go-ni bets his life savings on a hand of hwatu, only to lose to a crooked cardsharp. Determined to get revenge, Go-ni sets out to find the guy who cheated him and win back his money.
============================================
I decided to watch this movie because someone said "If you liked Godfather then you will like this" but I would rather say "If you liked Godfather you will like Korean drama All In and if you liked All In you will like this"

Occasionally I felt like watching 24 episodes long All In squeezed in this super long 2 h 20 min movie but also like it was similar to War of Money (Korean Drama) Since this movie was based on a comic book, it really felt like it. Things happened without proper explanation, it wasn't deep and it went on like a comic book would. It went on a bit too fast in fact, I felt like resting a bit in the middle. Also, time jumps messed things up a little bit. Everything seemed so disorganized though only occasionally. Presentation was interesting spiced up with good jazz, this was definitely one of the most delicious looking cakes. Looks pretty and simple but when you taste it the filling seems complicated and you can't tell what it is. Even though it seemed fast advancing it didn't make me feel bored, though it was a bit numbing. I wasn't that satisfied with ending, it left me thinking and scratching my head "Like this? That's all?" it left me yearning for more even though I was happy that marathon was over. It was a bit absurd and a bit rushed. In the end I really didn't get what's the point of whole movie? Though it really showed me how ugly gambling can be. Gambling obsession is reality, world of gambling is something you should stay away from. Once you get into swirl it's never ending or then it will be harder than hard to get out. How ironic was that scene when Goni held on his backpack, it opened and all the money went flying in the air and so he lost everything.

If you want realistic movie forget this. This is rather stylish dream of a wannabe gambler. Why would anyone respect someone who cuts hands and fingers of people who lose to him? And if they happen to win they would probably end up dead. Was there any other points in this movie that to be entertaining and look cool? I felt like there were some deep thoughts, hard to reach but they were there. If you start to search for them and digging you will feel scared. because those things are ugly, uglier than the ugliest person you know.

I don't have much to say about the cast. They were good, acted well but didn't catch my attention specially. Director woke up my interests, maybe I'll watch some other movies of his.

4/5
Entertaining, fast paced, stylish, cool, complex, classy OST, good acting.

Seung-woo Jo


My first time seeing this fella. He managed his part well. I still cannot figure if his character was suposed to be good or bad. But liked him. He had this phony smile.

Kim Hye Soon


She was sexy, I just have to admit it because it was the truth.

Screen Caps



So, do they look alike?



This movie felt like marathon.



You cheat, you face the consequences



I liked the beginning of the movie far more than what came in latter half. It was so simple, celar and kinda felt safe. Like childhood memories.



And my memories of excellend War of Money were awakened.



Goni was totally Korean superman #3. he got stabbed, shot, he fell from train, he was in a car accident and he survived everything. This gutsy fellow. If Goni and Harry (from Lobbyist ~Korean superman #2) had a battle I dunno who would win?



I didn't expect her be that crazy for money... tsk tsk



Goni is cool!



Woman who's lips are "like wet rose" is sexy xD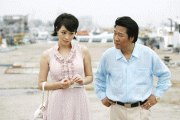 She is also schieming, two faced witch.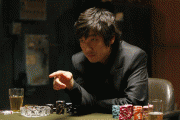 Never take up gambling. You think you will be able to control yourself? No, you kidding? It's gambling that controls you. It's like drug.